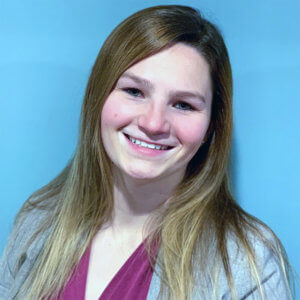 Majors: BS in Accounting and Finance
Minor: Information Technology
Anticipated Graduation Date: May 2021
Internship Title: Corporate Analyst
Employer Name: JP Morgan Chase & Co
Employer Location: Newark, Delaware
Internship Dates: July 7 – August 7, 2020
Describe your role or a typical day.

A typical day began with either a team meeting or catching up on my work emails. The remainder of the morning I would attend scheduled meetings and tend to daily tasks. I met regularly with my intern pod, mentors, and/or managers to discuss my personal and team progress, specifically related my teams' two main projects.

Throughout the day I would work on these projects individually and with my fellow teammates, as well as complete any trainings or attend other intern meetings.

How did you hear about or obtain this role?

Towards the end of summer 2019 I received a blast email from Career Development that notified junior and senior business students that JP Morgan's internship program opportunities/applications were live. I applied and completed the HireVue, the first interview, rather quickly since most of the deadlines were in early fall. I was invited to the JP campus for a second interview, and a few days later I received a phone call with an offer.

What were your major responsibilities at the internship?

My major responsibilities were working with my team to create two presentations that we would present at the conclusion of the program, meet regularly with mentor(s) and manager(s), and to network with other fellow interns and other professionals throughout the firm.

What interested you about it?

When reading the description for this specific internship program, I thought it was something I would enjoy and want to pursue as a future career. Also, the opportunity to engage with and learn from an international firm with such depth, diversity, and experience was beyond exciting.

What did you learn through your experience? How can you relate this to your future career goals?

From my experience I learned about flexibility and the importance of networking. Both of these lessons relate to my future career because they will be essential to my success in the financial industry. The networking opportunities are invaluable and endless at such a large firm, and I look forward to continuing to seek them out.

What advice would you give to other students about the internship experience?

My advice would be to put yourself out there, from your application and HireVue submission to your final day as an intern. It is important to be fearless and make sure you do not get stuck in the background. This can be achieved by taking initiative, asking questions, and collaborating with other interns and professionals.

Also, I would advise students to connect with Career Development early. Nancy Gallo has helped so much throughout this process. She gave me advice, guidance, and suggested other people and/or alumni with whom I should connect. I could not have managed this process without her support.