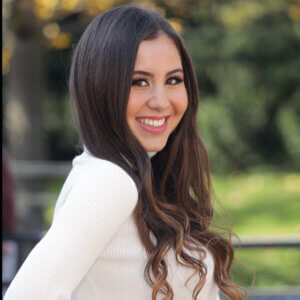 Major: Communication with a Concentration in Public Relations
Minor: Marketing
Graduation Date: May 2023
Internship Title: Beauty/Fashion Public Relations Intern
Employer Name: Push the Envelope PR
Employer Location: Freehold, New Jersey
Internship Dates: September 9 – December 13, 2021
Describe your role or a typical day.
Every morning, I educated myself on the newest happenings within the fields of beauty, fashion, and wellness by gathering a handful of articles for my daily reads. Through scouring the web for the newest trends and content, I was able to craft well-rounded pitches and gain insight for additional tasks. I then completed media monitoring in which I checked to see what placements within media ran for our clients. Finally, I checked in with my supervisor on Slack to hear the rest of my tasks for the day.
How did you hear about or obtain this role?
As a freshman at MU, I took it upon myself to put my best foot forward in terms of my future career. By the time I was a junior, I was already very close with the career development staff at Monmouth University and had countless meetings with them. Resume editing, LinkedIn coaching, and career discussions all helped me develop a competitive edge. Once I heard about the virtual fall career fair at MU from a mass email, I quickly signed up and prepared myself. After looking through the employers and researching them, I knew I wanted to meet with PTE. Once I joined their virtual booth and got to know the team, I sent my resume to their HR department.
What were your major responsibilities at the internship?
As an intern, I wrote pitches for our clients, researched and gathered editor contacts, completed monthly reports, created media clippings, monitored media, designed competitor audits, and more! I really loved getting different tasks every day, especially further into the internship when I became progressively quicker and more efficient. I had the freedom to be creative in my tasks that required designing, such as pitch graphics and press releases. My daily reads at my internship kept me up to date with the everchanging trends that happen within media. It was surprising to see that PR involves much research and is a very fast-paced field.
What interested you about it?
As a student, I came into college not knowing exactly what I wanted to do. So, after changing my major countless times and deciding on PR, I wanted to solidify my degree change by experiencing the field firsthand. This position was so interesting to me because I was exposed to many different brands from candles and pajamas to skincare and supplements. Since PTE is an agency, not an in-house department, I was able to familiarize myself with a plethora of unique brands. Each brand has its own story, founders, and product certifications which make them unique. It was fascinating to learn about new products from each brand and to come up with ways to place them in media.
What did you learn through your experience? How can you relate this to your future career goals?
Through this internship, I got a glimpse into a day in the life of a PR firm. PR has so many different facets such as print media, broadcast, social events, and more! I learned how to write pitches for specific products successfully with creative angles in order to push them into print media. I also brushed up on my research skills when it came to curating lists of editors and executing competitor audits. One has to be well informed on the brand, product, and industry in order to have a clear direction with all the tasks needed. I'm happy that I was able to learn more about PR because my future career goals are so numerous and diverse. Some possible future interests of mine include branding, package design, advertising, promotion, product development, and PR. I really enjoyed experiencing the PR field and I'm so eager to take my newfound skills into the future.
What advice would you give to other students about the internship experience?
Don't be afraid to jump right into a field that you aren't familiar with. If anything, it'll be refreshing to learn about a new field that you otherwise wouldn't have learned about in college. Also, take advantage of this special timeframe of internships in college because it is a rare time in which you aren't expected to know or have every necessary skill (in most cases). Apply for that internship even if you only have a few of the requirements! Take advantage of the guidance and mentorship that you have by being inquisitive and attentive.