Intern of the Month
May 2021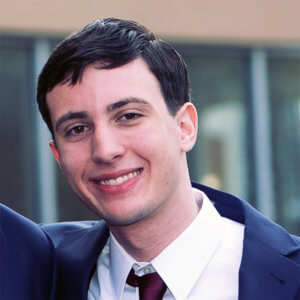 Major: Software Engineering
Minor: Physics
Anticipated Graduation Date: May 2021
Internship Title: Software Development Intern
Employer Name: Plymouth Rock Assurance
Employer Location: Woodbridge, New Jersey
Internship Dates: June 2 – August 22, 2020
Describe your role or a typical day.
My days at Plymouth Rock were spent in equal parts shadowing a senior developer, and doing my own work. Throughout the summer we worked together to upgrade the company's internal claim viewing system. In the mornings the senior developer would go though what we would be working on that day and do the more complicated parts himself, then in the afternoons I would work on the parts of the system that I understood.
How did you hear about or obtain this role?
I heard about this role through an email that Monmouth University Career Development sent out to all CSSE students. Plymouth Rock had started their internship program the year before and after being impressed with the students from Monmouth, decided to hired from the University again.
What were your major responsibilities at the internship?
Over the course of the internship I worked on improving an internal system to view and manage insurance claims. The main change that we made was switching the system from rigid hardcoded forms to dynamically loaded forms which could be changed, added and updated right from the browser without needing to relaunch the entire system.
What interested you about it?
I was interested in this internship because it would give me an opportunity to learn about the career I am about to start, and it helped me develop skills to further my career. I also was excited for the opportunity to see what it was like to be in a big office environment for the first time, however due to COVID that was not possible.
What did you learn through your experience? How can you relate this to your future career goals?
Through this experience, I learned a variety of technical skills that will help me in any future jobs and I feel more confident in my abilities as I look for full-time employment. In addition, I was initially apprehensive about the work environment at a large company like Plymouth Rock. However I was happy to find that it was a welcoming place to work with a lot of very nice people.
What advice would you give to other students about the internship experience?
I think that any student who has the means to work a summer internship absolutely should, as it has helped me greatly in my job search and has made me feel more confident in my skills.