Intern of the Month
August 2019
Karalyn Hoover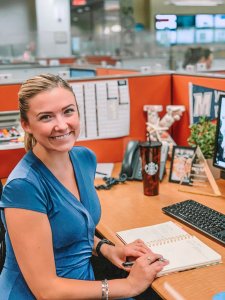 Major: Communication – Public Relations & Journalism
Anticipated Graduation Date: May 2020
Internship Title: Public Relations Intern: Food Team
Employer Name: Coyne Public Relations
Employer Location: Parsippany, NJ
Internship Start Date: June 6, 2019
Describe your role / major responsibilities at the internship.

I'm an intern on the food team, my major roles and responsibilities include:

Work closely with supervisors to plan, execute, and evaluate effective PR campaigns
Generate and maintain media lists for clients using platforms such as Cision and research
Draft PR pitches for distribution to media contacts on behalf of clients weekly; both via email and phone call
Develop celebrity relationships by packaging and sending product mailers
Media sweep on behalf of various clients; looking for potential crises, organic mentions, and campaign coverage to include in media logs
What interested you about it?

Coyne Public Relations is one of the top Public Relations agencies in the U.S. and was even awarded as 2019's Creative Agency of the Year by the Holmes Report. Coyne is routinely ranked as one of NJ's best places to work; the work is enjoyable, the clients are well-known, the people are friendly, and the opportunities are endless.

This agency offered the experience I hoped to gain from a PR agency the summer before my senior year. As someone who loves working in the PR industry, I'm always searching for new opportunities to gain experience from, and Coyne has been nothing less than invaluable.
What did you learn through your experience? How can you relate this to your future career goals?

While my title at Coyne is an intern, my team has provided me with plenty of opportunities to do work that an entry-level Account Coordinator would complete.

Prior to working at the agency, I had never communicated with media over the phone, earned coverage, or put together celebrity mailers. And now, having had the opportunity to learn each of those roles, I know I enjoy each one.

The experiences I have gained from my first month at Coyne will undoubtedly carry through my entire career in the industry. Additionally, I've learned that I thoroughly enjoy working in a fast-paced agency – something that without this internship opportunity, I might not have realized until after my first full-time job. My future career goals would be to someday own my own agency, but until then, I hope to continue working at a fast-paced PR agency such as Coyne.
What advice would you give to other students about the internship experience?

My advice to other students about the internship experience would be:

Push yourself to do things you have not yet had the opportunity to do.
Say hello to everyone you see in the office; everyone is extremely friendly, and as an intern it's important to network!
An internship, no matter where, is a long interview. Always be prepared to put your 110% into each project you work on. Your hard work will be noticed – and remembered.