September 2021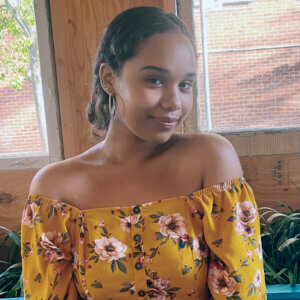 Major: Music with a concentration in Music Industry
Graduation Date: May 2021
Internship Title: Social Media Marketing Intern
Employer Name: Sirius XM Pandora
Employer Location: New York, NY
Internship Dates: June 1 – August 6, 2021
Describe your role or a typical day.
On a large scale, a typical remote day with Pandora entailed working on large music brand marketing projects such as Black Music Month, Pride Month, Latinx Heritage Month, Mental Health Awareness Month, and so many more! I also worked directly with Organic Social posts for Pandora's social media platforms.
How did you hear about or obtain this role?
Jeff Mass and Career Development is the reason why I'm currently an intern at Sirius XM + Pandora! Jeff has helped Monmouth University students by sharing opportunities that they might not have been exposed to otherwise. He also gave me realistic interview question examples and led me to other job interview preparation resources. I am so grateful!
What were your major responsibilities at the internship?
Analyzed and tagged all Pandora organic social posts in marketing analytics platform, ListenFirst, based on genre, artist share, asset type, etc.
Tracked Pandora's weekly Top Thumb Hundred social media posts for artist shares and engagement
Tracked Pandora's content priority posts in Google Sheets, including links to each post
Conducted research for Pandora's monthly Stars on Stars music playlists
Assisted with daily reporting and tracking across Organic Social Campaigns
Created competitive analysis for Pandora's Organic Social Weekly Newsletter
What interested you about it?
I had a previous Social Media Marketing internship in the music industry, so this internship seemed perfect for me, and it truly was!
What did you learn through your experience? How can you relate this to your future career goals?
I have learned so many great skills related to brand marketing, marketing analytics, marketing analysis and data, the power of music, and so many other great skills. As a result of my summer internship, I was offered a full-time position with  Sirius XM + Pandora as a Multicultural Social Media Marketing Coordinator for Pandora, so I will continue to use these skills for my position!
What advice would you give to other students about the internship experience?
My best advice to other students is to seize any opportunity that comes their way, because that's how they will be able to build skills, learn, and create new experiences for themselves that might not become available if they don't take the first step towards being proactive. Also, always ask questions and communicate efficiently!