Intern of the Month
September 2019
Alyssa Verdi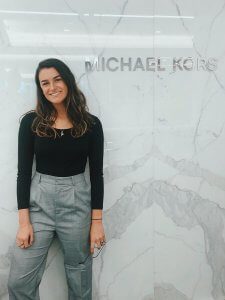 Major: Business Management and Decision Sciences
Anticipated Graduation Date: May 2020
Internship Title: Talent Acquisition Intern
Employer Name: Michael Kors
Employer Location: New York, NY
Internship Start Date: January 14, 2019
Describe your role or a typical day.

The Michael Kors Internship Program offered me an opportunity to gain exposure to the inner workings of a global retail corporation. Each day, I was able to participate in my comprehensive program where I was able to receive training and develop interpersonal skills and knowledge under the guidance of experienced professionals. During my internship, a typical day would include sourcing through hundreds of potential applicants and conducting phone screens on a daily basis for the highly competitive summer internship program in our NYC office.
What were your major responsibilities at the internship?

I was tasked with assisting the Talent Acquisition team with sourcing potential candidates for every department within the NYC office for the summer internship program. I created and posted job descriptions for internship positions, and over the course of my internship at Michael Kors, I reviewed incoming resumes, and gave my feedback as needed.
What interested you about it?

As my junior year at Monmouth was quickly approaching, I decided to seek out an internship in Human Resources (HR) after being counseled by the Office of Career Development. I always knew that I had a passion for HR, and after learning more about the different areas of HR from my counselor, I knew I wanted to be involved with recruiting. After researching HR internships online, I was lucky enough to secure an interview with Michael Kors after being approached by a recruiter from via LinkedIn, and I was later offered an internship position within the HR department, which I accepted.
What did you learn through your experience? How can you relate this to your future career goals?

The experience I gained from my HR internship at Michael Kors were truly instrumental, and my experience certainly complemented my passion for the field of recruiting. There are so many positions needed to make a global company run, and I never would've learned about them if it hadn't been through working here in HR. I also learned to source candidates in an timely matter, and I was much more comfortable on the phone while interviewing potential applicants.
What advice would you give to other students about the internship experience?

Don't be afraid to speak up! I was so timid in the beginning of my internship and I wasn't getting the full experience that was intended for me. If you're confident and outspoken, you'll really make a mark on the company.