Intern of the Month
April 2022
Christopher Harrigan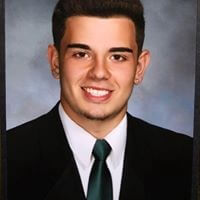 Major: Business Marketing
Minor: Information Technology
Graduation Date: May 2022
Internship Title: Advertising Sales: Business Operations & Services
Employer Name: NBC Sports
Employer Location: Manhattan, New York
Internship Dates: January 18, 2022 – April 22, 2022
Describe your role or a typical day.
First, I meet with my supervisor to establish objectives for the day with specific responsibilities to complete by a deadline. I also attend team meetings to discuss the tasks at hand, previous events and discussions, future projects, and deadlines in the near future. Finally, I run reports and train with members of my team to learn different reports and tasks that must be completed daily/weekly.
How did you hear about or obtain this role?
I previously interned with NBC's streaming service Peacock in the Fall semester and extended my internship into the Spring with NBC Sports. I applied two times last year to NBC, and on my third attempt I was able to obtain a role for the Fall semester.
What are your major responsibilities at the internship?
I worked with data systems and log editing tools, which were updated daily for cable television, including the Winter Olympics, the English Premiere League, and PGA Golf events. I also managed client partnerships using strategy and insights in targeting and segmentation.
What interested you about it?
I wanted the opportunity to work with a global advertising company during their hosting of Super Bowl LVI and the 2022 Winter Olympics, and also the possibility of obtaining a full-time position with the company upon graduation.
What did you learn through your experience? How can you relate this to your future career goals?
I leaned that there are many different areas of business within Marketing and Advertising. There are numerous intertwined departments that work together with different responsibilities that must meet hard deadlines in order to prepare commercials and other adverting outlets to mass audiences.
What advice would you give to other students about the internship experience?
When you get an opportunity to expand your knowledge in a real work environment while applying skills and concepts you are learning in school, you will gain true experience that will be enticing to potential employers.