The First-Year Advising Office invites all first year students to:
Get Involved
Stay Connected
Take a Chance …
… and discover the possibilities in their majors.
Throughout the academic year, the First-Year Advising Office will feature Academic Success Stories of upperclassmen and recent alumni who achieved success in their majors. Please check our Web site regularly for new stories featuring majors from various academic departments.
Juliana Pierce,
SENIOR
I am a senior EOF student at Monmouth University, and I will be graduating in May 2012 with a B.A.in Psychology and two minors in Philosophy and Gender Studies. In August,I will begin the Psy.D. Program in Clinical Psychology at Chestnut Hill College in Philadelphia, P.A. Looking back, I can confidently say that I am proud of the variety of experiences that I have gained at Monmouth University.
I am a member of three honor societies: Phi Eta Sigma, Chi Alpha Epsilon, and Psi Chi. This year, I am serving as Vice President of Monmouth University's chapter of Psi Chi, the International Honor Society in Psychology. Additionally, I have been working on a research project with Dr. Dinella for the past 2 years that focuses on children's gender typing of fictional characters. Dr. Dinella and I will be submitting our paper to a scholarly journal for publication, and we will be presenting a poster of the study at the Gender Development Research Conference in San Francisco this April. Participating in departmental research has been one of my most exciting experiences at Monmouth.
Two other great experiences have been my internships. Junior year, I interned at 2NDFLOOR Youth Helpline, where I was subsequently hired as an employee and continue to work today. Still, the most rewarding experience has been interning with my professor, Dr. Christine Hatchard for her organization for adult survivors of mother-daughter sexual abuse, Making Daughters Safe Again. This internship has taught me so much about clinical work in psychology and a population that I never knew existed. Not only has it helped me decide I would definitely like to pursue a career in clinical psychology, but also that I would like to continue working with survivors of mother-daughter sexual abuse.
My best decision as an undergraduate student was to get involved. I am very thankful for the connections I have made because I have established an extremely supportive and helpful network. Thanks to the Department of Psychology, the EOF Program, and the friends I have made at Monmouth, I have already accomplished so much more than I ever thought I would have!
Juliana Pierce
Monmouth University Senior, Psychology
I am currently a senior, and will be graduating this May with a Business Administration degree with a concentration in Finance. I will also have completed a minor in Information Technology. While at Monmouth, I also worked at two internships, which will aid me in my search for future jobs. Participating in these two internships has helped me in my time management skills, since I had to juggle both classes and a job at the same time. These experiences taught me not to wait until the last minute and try to get my work done ahead of time.
My professors in the Leon Hess Business School have been incredible teachers. I have been able to create lasting connections with them and learn from their real-life experience in the business field. These professors also helped me to get internships with excellent firms in Hoboken and New York City. These two internships have certainly added to my experiences and the education I have received here at Monmouth University.
Career Services, in the Center for Student Success, has also been an excellent resource on campus. They have helped me gain valuable experience through my internships, and they have helped me narrow down my search for future career options. Through Career Services I gained the skills necessary to stand out to recruiters. Many students, including myself, might have believed that getting an internship early was not in their best interest, but I found it extremely helpful and important.
Steve Beck,
Business Administration, Class of 2012
DAYNA CARMAN,
SENIOR
I am currently a senior here at Monmouth University. I am majoring in Communication with a concentration in Public Relations and Journalism. I will be graduating in January 2012 and I am very excited.
I was a transfer student when I came to Monmouth. I transferred from a fashion business school in Manhattan. I was looking for more of a college experience and more options to expand my major beyond fashion. I changed my major many times within my first semester here. I was extremely overwhelmed and felt the pressure of needing to know what I wanted to do. What I know now is that there is no reason to know what you want to do right away. I took a variety of classes indulging in mostly business and communication classes.
In the middle of my junior year I began to feel extremely overwhelmed about the major I chose. At the time I was Business Marketing with a Minor in Public Relations. So I decided to take my spring 2010 semester off. Contrary to what most believe about people who take semesters off, I was more prepared than ever and excited to come back that fall. Since I took a heavy course load (18 credits) most of my time at Monmouth, I was only a semester behind.
Once I came back I realized that Public Relations was a better fit for me than majoring in Business. Once I realized that, everything took off. I became very passionate about the school work I was doing. I became involved with Monmouth's PRSSA chapter. After taking several PR courses, it confirmed that I knew what I wanted to do. In the fall of 2010 I inquired about a social media internship at NYS Collection Eyewear. Unfortunately, it didn't fit with my spring schedule so I didn't pursue it. However, one thing I was always told was to never burn any bridges with anyone.
So when it came time for my internship this Fall I contacted someone at NYS Collection, had an interview, and got the internship. It has been an amazing experience interning for the company. I am not only able to utilize my social media skills, but I'm also learning a lot about the public relations and marketing aspects of the business.
I couldn't be happier with the decisions I have made throughout my time at Monmouth. I hope to extend my internship further into a full-time employment position. I encourage all students to utilize the professors here and the resources available. Also, remember that you don't have to know what you want to do right away. Life is a learning experience, and college is time when you learn about yourself.
Dayna Carman
Monmouth University Senior, Public Relations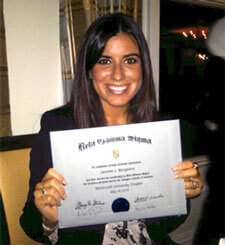 JENNIFER BONGIORNO,
SENIOR
I am currently a senior and will be graduating in August with a bachelor of science in business administration with a concentration in marketing. The reason that I will be graduating in August is because I took the initiative to accelerate my degree and graduate in a total of three years (two semesters early). I did this by taking 18 credit semesters and enrolling in multiple summer semesters. While at Monmouth, I was inducted into Beta Gamma Sigma, which is a National Business Honor Society for students that are in the top of their class. I also have been working at a new barbecue restaurant that my family just opened in Millstone, NJ. I also am frequently traveling to Florida to visit my boyfriend who plays baseball for the University of Florida. Overall, I would say that I keep myself plenty busy but I feel that this is crucial for all college students.
My experience at Monmouth University has been absolutely incredible. I have come in contact with so many people and professors that I truly believe will be a part of my life forever. Professor Stives and Professor Buzza are two professors that I can honestly say have impacted my life both academically and personally and I will always look at them as my mentors. Any student who is able to learn and grow from these two professors should feel extremely lucky. Another professor who has most definitely changed my life is Professor McCarthy. During the fall of 2010, I enrolled in his sports marketing course. The time that this course was offered was not ideal for me but I decided that it was a course that I needed to take because sports marketing was the profession that I was hoping to get into after college. Professor McCarthy is also the Vice President of Marketing (Consumer Product Licensing & Partnership Marketing) at the National Hockey League. Both he and his course confirmed for me that sports marketing was most definitely the career path that I wanted to follow. One day I was lucky enough to receive an email from Professor McCarthy asking me if I would like to intern for him at the National Hockey League in the Spring of 2011. I was ecstatic and immediately rearranged my spring schedule. Currently, I am interning at the National Hockey League and could not be more appreciative for this amazing opportunity that was given to me. I am continuously learning day after day and recommend that students that are interested in a certain industry definitely seek an internship opportunity. An internship allows you to learn what individuals in your field actually do on a day-to-day basis. I hope to continue to learn and grow at the National Hockey League. My experience at Monmouth is something that I will never forget. I truly would not be who I am or be at this place in my life had I not been here and met all of the professors that I have. Current and future students should all embrace the wonderful professors and environment that are offered at this university.
Jennifer Bongiorno
Monmouth University Senior, Business Administration
STEPHEN ALEX,
SENIOR
I am currently a senior and will be graduating this January with a BA in Political Science. After graduating, I plan on going to Navy Officer Candidate School in hopes of becoming a U.S. Navy SEAL. I leave with nothing less than the most sincere gratitude and appreciation for this university, the faculty, and my fellow students. This extraordinary journey during my undergraduate study has left me feeling confident and eager to take on the many challenges I face in future endeavors.
I would like to specifically highlight the Political Science department here at Monmouth University. In all honesty, I cannot stress enough how grateful I am to have studied under the very dedicated faculty members in the department. I often refer to the Political Science department here at Monmouth as a "hidden gem". And the frequent talks I have with current students and alumni who have taken any one of the many courses offered by the department would confirm this belief. One thing that truly stands out as I reflect on my years as a political science student is that every member of the faculty is more than willing to meet each student more than half-way, if one is willing to put in the effort to get the most out of his or her education.
The professors' passion for teaching and involvement with students in and outside the classroom is just remarkable. I have been fortunate enough to become involved in the many activities offered by the department. To all incoming political science students, or current students of different majors who are looking to have fun and get some really good experience, I would highly recommend a few classes or activities that are offered by the department. I had such incredible experiences debating for Dr. Patten's debate team and participating in Model U.N. with Dr. Dooley. Both clubs allow students to branch out, gain practical experience and develop critical thinking skills, all the while forming close relationships with fellow students. I would also recommend becoming involved in the Institute for Global Understanding with Dr. Datta, where students have the opportunity to become actively engaged in the community. Also, Dr. Mitchell's international relations class and Dr. Kloby's public policy class truly sparked my interest in studying politics and foreign affairs. The one great thing about each professor in the department is that their only goal is to provide students with the tools and a strong theoretical foundation to make for more effective practical application in the real world. That is why, from my own experience, political science students from Monmouth stand out among and can compete with students from even some of the best universities in the country.
Lastly, I would add that all these great things that I have mentioned is a reflection of great leadership, particularly from President Gaffney. I am certain that the great campus life and community at Monmouth University is largely made possible by his dedication and leadership. Seeing President Gaffney's active involvement in student life and campus activities has had a great impact on my own involvement in events or activities on and off campus.
I have grown so much in so many ways in the past four years at Monmouth University, and I owe much of my development to the teachers, mentors, and students that I have met along the way. Team KORTNEY!
Stephen Alex
Monmouth University Senior, Political Science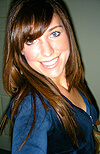 HEATHER POSTEL,
SENIOR
I am a senior at Monmouth and my major is Music Performance. Woods Theater is a place I call my second home, where I feel like I'm part of a big family with the students as well as the teachers. There's no place like it!
As a freshman, my major was undecided and I explored several options. When the Department of Music and Theatre Arts held a meeting for first-year students, the professors gave a speech about something called the "fire in the belly." "Do you have it??" they would ask. That "fire" is the desire to take on a major that is difficult to pursue; one that is so competitive in the real world. But if you've got the "fire," then you belong here. That's when I knew I was in the right place. I love to sing and play several instruments including the violin, guitar, and piano. I hope to make a career out of songwriting and performing, and being a Music major at Monmouth University has prepared me for my future endeavors.
During my time here at Monmouth, I've been a part of the chorus and chamber orchestra. I went to Ireland last year with the chamber choir—that was an incredible experience! This year, I was lucky enough to be a part of a special, original production of a take on Alice in Wonderland, called "Roasting Alice," and I was the Dormouse! I found a desire to act as well as write and play music, so my participation in the play has broadened my skills as a performer. We even learned choreography for the songs in the show! It's incredible that a student can start out with a fear of standing in front of an audience and, just a few semesters later, become a confident, talented musician with the help of our enthusiastic faculty members. I encourage any incoming freshmen with a passion for the music and theatre arts to pursue it as a major—it is extremely rewarding!
Heather Postel
Monmouth University Senior, Music
---
ENGINEERING THE FUTURE
My name is Jessica Pino and this past summer I had the opportunity to intern in the FAA with my company, Enroute Computer Solutions (ECS). My job while working with ECS was to develop, code, and test various pieces of software as well as maintain documentation and perform various defect and project management activities. Having the opportunity to use the skills that I learned in college was a gratifying experience. Gaining experience in a real business setting helped me to learn how the software that I made was going to be used within the FAA. This is a big difference as compared to classes, where I would write software and, once it was graded, never look at it again. The work I produced is going to be used within the business itself and will be deployed out for workers to use.
Working at my internship puts into perspective how the software that I learned how to create in my classes will be built upon to make a real life working product. The experience that I gained was invaluable and it will help me to get a job after I graduate no matter where I decide to go. My advice to other students is to try and find internships because knowledge and experience will make you more attractive to employers than someone who only knows how to work out of a textbook, especially in the current job market. Good luck to everyone in this new school year and to the graduates of 2010!
Jessica Pino
Monmouth University Senior, Software Engineering Major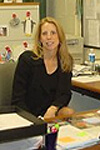 JILL TAKACS
Since graduating in 2003 from Monmouth University, in the Educational Leadership Masters Program, Mrs. Takacs worked as a vice principal and principal of elementary schools in Monmouth and Ocean counties and is now serving as the Director of Curriculum, Instruction, and Testing for the Hazlet Township Public School District.
In this position, Mrs. Takacs oversees the coordination of curricular revisions and textbook selections. She is responsible for the development and management of the No Child Left Behind consolidated grant and coordinates the district's State standardized testing administration. Additionally, Mrs. Takacs works with the district's principals to define building objectives for each school year. She reviews all classroom observations and works closely with the district supervisors to oversee each curricular area.
Mrs. Takacs interviews with principals and supervisors for new staff positions and monitors personnel assignments. She develops a curriculum budget annually and directly organizes the district's Professional Development Academy, which includes administrative, staff, and parent workshops and training sessions. She works with the building level principals on the placement of student teachers and junior field observers including many from Monmouth University. She has attended Monmouth University's Spring Job Fair to recruit potential teachers.
Mrs. Takacs has presented at the University's Literacy Symposiums for the past two years and is actively involved with the University's School Partnership Advisory Committee and the Professional Development Schools Partnership between Hazlet Township Public Schools and Monmouth University. As a member of the partnership board, Mrs. Takacs has a strong knowledge base of current and proposed education programs and how the university faculty in concert with all constituents uses data analysis for program improvement.

ANGELA ROCCARO, SENIOR
I will be graduating from Monmouth University in May 2010 as an education and music major for K-5. Transitioning to college was great because the class size was small, and I was able to receive one-on-one attention from a lot of the faculty. Being in the Department of Music and Theatre Arts was a gift. Through my four years, the Department became a family to me. Professors, such as Professor Tripold, help me to excel in my major when even I thought I couldn't. In my education classes I can honestly say I couldn't have been more prepared for the real world. I learned everything I needed to know that could be taught in class for when I am a teacher, and everything was learned through the experience of student teaching. My professors gave more then I needed in order to be prepared for whatever is thrown at me.
I was a member of the Chamber Ensemble and even went to Ireland with the Department. In the School of Education, my professors were always there to guide me and help me with whatever I needed; they even convinced me to further my education in Special Education for my masters. That is something I never thought I would do, but having a great support team at Monmouth University has inspired me to do better. So many experiences that I have had at my time at Monmouth has made me the person I am today. Throughout my journey through college I couldn't have been any happier with my choice of Monmouth University.
Angela Roccaro
Monmouth University Senior, Education and Music
---
Monmouth University Student Receives Travel Award to National Scientific Conference
Samantha Nealer Presented Poster at the 20th Biennial Coastal and Estuarine Research Federation Conference
Senior biology major Samantha Nealer of Pitman, New Jersey has received a CERF 2009 Student Travel Award and attended the 20th Biennial Coastal and Estuarine Research Federation Conference, November 2 to 5, 2009, in Portland, Oregon. Ms. Nealer presented a poster titled "Condition of larval Fundulus heteroclitus exposed to sub-lethal levels of methylmercury: RNA/DNA and morphometric analyses." She has been conducting this research with her advisor, Dr. Ursula Howson, to earn Departmental Honors in the Biology Department and will write her thesis based on this research.
Ms. Nealer's research was funded by support from the New Jersey Biotechnology Educators Consortium (NJBEC is part of the Bio-1 partnership through a grant from the Workforce Innovation in Regional Economic Development (WIRED) program of the United States Department of Labor) and Monmouth University's Department of Biology.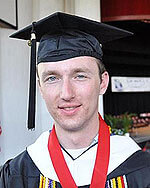 DANIEL WISNIEWSKI
I recently graduated from Monmouth University with a History/Political Science Interdisciplinary degree. As a first year law student at George Mason University, I am really gaining a perspective on how valuable my time was at Monmouth. The law and public policy courses I took at Monmouth gave me a thorough background to be prepared for law school. The professors at Monmouth provided me with an excellent education.
Most of my time at Monmouth was dedicated to clubs and organizations. By far, my favorite organizations were the debate team, writing politics for the newspaper, and being a member of the greatest club on campus, the political science club. The debate team taught me logic and public speaking, the newspaper taught me persuasion and organization, and the political science club taught me both team work and leadership. The instruction I received in class was excellent, but the main thing I will take away from Monmouth is what I learned in its organizations – through the professors and other students.
I wouldn't be where I am today, personally or professionally, if the professors in the Political Science Department hadn't been so motivating.
Daniel J. Wisniewski
Monmouth University Class of 2009
DEBORAH ROSENTHAL (pictured right) displays her cover artwork at the Jersey Shore Public Relations and Advertising Association dinner.
I went to the Jasper Awards Dinner with my husband, Marc Rosenthal, at the PCN Arts Center on October 9, 2009. I was invited to the dinner to receive a $500 scholarship because my artwork was chosen to go on the cover of the JSPARR dinner booklet. JSPARR is the Jersey Shore Public Relations and Advertising Association.
I am an adult, part-time student and have been attending Monmouth University on and off for the past 20 years. I am currently a substitute teacher working part-time. I was a graphic artist for 14 years before having children. I also am currently a senior art/education major at Monmouth, a member of Kappa Delta Pi (the education honor society), and Omicron Delta Kappa (the leadership honors society) at Monmouth University.
Deborah Rosenthal
Monmouth University Senior, Art/Education
JENNIFER NOONAN, SENIOR
I am a senior majoring in psychology with a minor in criminal justice. When I was a sophomore, I took a course that allowed me to begin exploring my research interests. As luck would have it, the professor of the course had similar research interests and we began to design studies together. I signed on to an independent study, started collecting data, and began to find some amazing things. A few months later, I presented my work at the conference for the Eastern Psychological Association. More of my work has been accepted to an international conference at the Society for the Study of Emerging Adulthood. It was through this research experience that I decided that I want to pursue a career in psychological research. Looking back over my four years in college, I cannot believe that I have achieved this much success.
My experiences in research have opened many doors for me. I am currently in the process of applying to graduate schools, which all emphasize the importance of past research experience. My advice to anyone looking to become a psychologist or member of any field that is required to do research is to try to associate with a faculty member as early as possible. Not only does the research experience look incredible on graduate applications, it may provide you with opportunities that you never thought possible before. It may be a lot of work, but stick with it! The rewards will be worth it in the end.
Jennifer Noonan
Monmouth University Senior, Psychology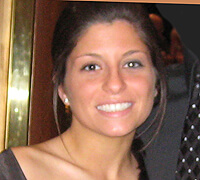 ALIX DETULLIO, SENIOR
I am a senior majoring in health studies at Monmouth University. Through my advisor, I learned about a non-profit organization, Unite For Sight, that provides eye care for the developing world. After extensive training, I went to Accra, Ghana, for three weeks. This experience changed my life. Not only did I learn about different cultures, but I learned about other healthcare systems. Students do not have to be pre-medical students to participate in this organization; however, this experience really shaped my future in the healthcare field. It confirmed my decision to practice medicine in developing countries for my career. Unite For Sight has also made me the Monmouth University representative for the organization, allowing me to reach out to other Monmouth students and spread the word about how we, as students, can improve the world.
Alix DeTullio
Monmouth University Senior, Health Studies
As a recent graduate of Monmouth University, I can confidently say that attending Monmouth was one of the best decisions I made in my academic career. I am currently in my second year of a PhD program in social psychology, and feel that Monmouth prepared me very well for entering graduate school.
Aside from the broad and comprehensive knowledge obtained in classes, Monmouth gave me the opportunity to participate in activities with other psychology majors and work one-on-one with professors. During my time at Monmouth, I was involved in the Psychology Club and Psi Chi, and worked as a research assistant gaining real lab experience. My advice to first-year students would be to diligently seek out these types of opportunities. They can help solidify your interest in a major or career path, and also allow you to network with professors whose recommendation letters will be a major asset on the job market or with graduate school admission.
My experiences at Monmouth helped me obtain admission to graduate school and follow my goal of becoming a psychologist. It is the pro-student atmosphere, individual attention, and wide range of enriching activities that make Monmouth an ideal place to receive a college education. First-year students should feel very confident in their choice of an academic institution, and hopeful for the great experiences that are within their reach.
Natalie Nardone
Monmouth University Class of '08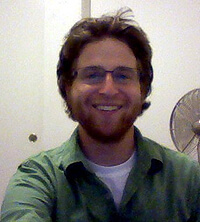 ARI GOLDBERG '09
As a recent graduate of the criminal justice program at Monmouth University, I would like to take the time to express my sentiment for this institution. As first-year students, first let me congratulate all of you for choosing such a terrific school to help further your education. For those of you that are at all nervous about the challenges that lie ahead let me assure you that the quaint and inviting atmosphere created by the Monmouth University campus, and more significantly the faculty, will really help to put your mind at ease. Whether it is academics, extracurricular activities, or even housing, there is always someone at MU ready to lend a helping hand.
On a more personal note, I have just begun attending law school, and the faculty at Monmouth University was instrumental in my decision to become an attorney. The excitement that my criminal justice professors showed for the integrity of law made me want to further my studies more than anything else. Furthermore, once I made up my mind to go to law school, they were the ones writing recommendations on my behalf, and giving the invaluable advice that I so desperately needed.
I went from a hesitant high school graduate to a proud law student, and in the middle was Monmouth University, the school that all of you have the privilege of attending for the next four years. Good luck!
Ari Goldberg
Monmouth University Class of '09