Academic Skills Workshops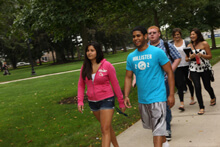 Monmouth's Tutoring Center offers workshops in a variety of study skills areas, including textbook reading strategies, time management, and test-taking strategies. These academic skills workshops will promote and foster independent learning and thinking to enhance confidence in students to achieve in all aspects of their learning and enable them to attain continued success throughout their academic career.
Note-Taking/Listening
This workshop will address skills and strategies needed for active listening and effective note-taking at the college level. Students will also learn proper techniques for writing lecture notes and be exposed to various note-taking strategies.
Learning Styles (VARK Survey)
To The VARK questionnaire can provide students with a profile of their learning preferences as well as how they process information. This is important for students to understand, because it will help them understand their learning style and how they learn best, thus making them able to be more successful.
Organization/Time Management
This workshop will address skills and strategies associated with having good organization and time management skills. Students should bring their planners and course syllabi with them for application of skills addressed.
Test-Taking Strategies
This workshop will address how to use appropriate strategies for taking objective and subjective tests. Students will also learn how to identify key words and phrases, gain an understanding as to what kind of information an essay question is seeking, and learn how to write an effective answer.