Automobiles are among the lead contributors of greenhouse gases in the atmosphere and, in an effort to reduce our carbon dioxide emissions, the University is continuously researching alternative transportation methods. Recent steps taken to reduce our greenhouse gas emissions include:
Purchased three hybrid police vehicles.
Purchased battery operated golf cart replacements instead of gas powered.
Purchased solar golf cart.
Replacing older, larger vehicles with electric and more fuel efficient work vehicles.
Recycled used oil and tires from vehicles and other equipment.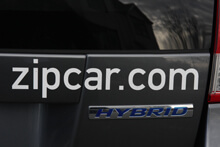 We have also entered a partnership with Zipcar Inc. in an effort to provide the University community with a cost-effective and convenient transportation alternative. Each Zipcar shared takes at least 15 personally owned vehicles off the road, reducing carbon emissions. For more information, go to: www.zipcar.com/monmouthu.